02-21-2022
Letter from Andrew Kaminski, the President of the New York Downstate Division of Polish American Congress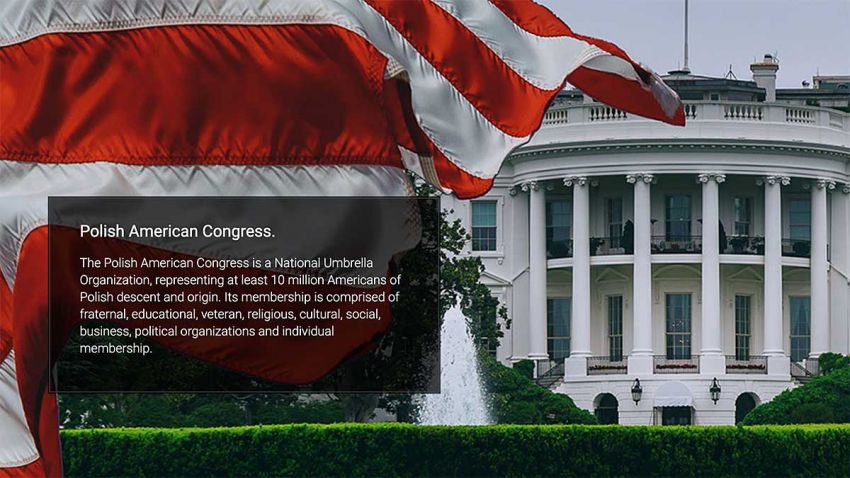 I hope that despite the continued COVID pandemic, you remain well. I wish you all a very healthy and successful New Year 2022.
Almost every ethnic group in United States has its main organization, which represents their interests in the United States. As an example, Italians have the National-Italian American Foundation, Jewish people have the American Jewish Congress. For the past 77 years, our ethnic group in America consolidated the Polish American Congress.
No other Polish-American organization, past or present, has such rich history, prestige and aII the necessary tools to represent the interests of Polish American Polonia than Polish American Congress. PAC has an extraordinary record of achievements for Poland and Polish Americans that began from the days of the World War II to the present. PAC facilitated for hundreds of thousands of our brothers to receive asylum in America after World War II. PAC headed Polish prisoners' compensation fund from Germany, the PAC helped the People with medical supplies and twice during the great floods in Poland, PAC gave millions to rebuild the infrastructure.
In 1999 PAC effectively lobbied for Poland's entry to NATO and subsequently in 2004 to be able to join the European Union. The PAC's mission has not changed. We are now working towards a greater Polish American involvement, so that we can have greater influence on our daily civic life here.
At the same time, the number of Polish organizations constantly gets smaller. There is a real fear that soon their activity can only become a memory.
In effect the Polish ethnic group is more and more becoming assimilated and is losing its identity and forgets its roots. Politicians do not lobby for our mutual goals or interests. Additionally, the needs of Polonia in individual neighborhoods of our cities are omitted or placed secondary. Together we must change that. The key to our success is the solidarity of our ethnic group. I believe that just like in the So's "Solidarity" effectively stood up to communism, we can also be able to unite.
Changes are necessary, but also possible, thanks to among others by supporting the Polish American Congress. I turn to you with a warm request to renew your membership in the PAC. Please fill out and return the attached renewal notice to us together with your payment and your e-mail address in the enclosed self­addressed envelope.
Please also visit our New York Downstate Division website: www.pacdny.org. We now plan to re-start our Division's meetings, including those on line to be able together set our Division activities. Remember, the more of us there are, the greater our strength to influence the reality around us. I respectfully thank you and wish you much health, a daily smile and many mutual successes for Polish Polonia and Poland.
Gratefully,
Andrew Kaminski,
President